Cocoa germplasm utilization and conservation: a global approach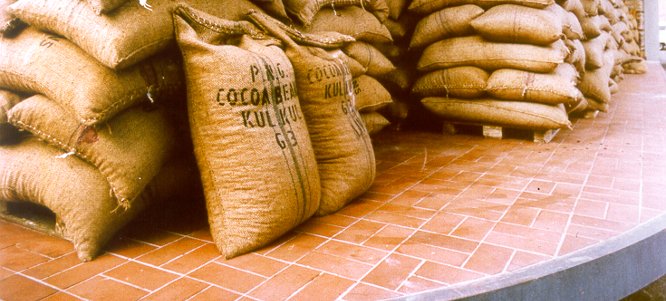 DURATION:

Six years after one year extension

LOCATION:

BRAZIL,
CAMEROON,
COTE D'IVOIRE,
ECUADOR,
GHANA,
MALAYSIA,
NIGERIA,
PAPUA NEW GUINEA,
TRINIDAD AND TOBAGO,
VENEZUELA

NATURE OF PROJECT:

Research and Development

ESTIMATED TOTAL COST:

US$ 9,985,940

FINANCING COMMITED BY CFC:

US$ 2,942,000

CO-FINANCING:

US$ 1,940,480

COUNTERPART FINANCING:

US$ 5,104,231

PROJECT EXECUTING AGENCY (PEA):

Bioversity International

PROJECT SUPERVISORY BODY:

International Cocoa Organization (ICCO)

PROJECT STARTING DATE:

April 1998

COMPLETION DATE:

March 2004
Brief Description
The main activities of the project were international and local clone trials; internationally co-ordinated hybrid selection trials; population breeding; germplasm enhancement; germplasm conservation, characterization and preliminary evaluation; distribution and quarantine of interesting genotypes; and  exchange of information and workshops.
Project Objectives
The project aimed to develop and distribute improved, pest and disease resistant varieties of cocoa planting materials by making optimal use of cocoa germplasm, which produces good quality cocoa and achieves higher and sustainable production levels. This was achieved through screening, selecting and breeding of improved cocoa genotype with economically important traits (yields, resistance to pests and diseases, quality, etc.,), collected from among the great diversity of the germplasm existing in the cocoa producing countries participating in the project.
Project Results
A total of 94 ha of international and local trials of new cocoa varieties were established at the different project sites, compared to 55 ha originally planned. Evaluation of the positive characteristics carried out on cocoa genotypes in the collections and breeding trials resulted in the identification of 2,345 promising new selections that would be used in the future. International clone trials, established at ten sites in nine countries, permitted the evaluation of the stability of economically important traits of 20 selected cocoa accessions distributed from intermediate quarantine centres.  Resistance to the three major species of Phytophthora proved to be generally stable and good resistance was identified for nine genotypes.
Local clone trials and observation plots were established in all participating countries.  The most promising local clones were already being used for further breeding and/or for testing in farmers' plots. Results on early vigour, yield and disease resistance have already been obtained in most countries. These trials have great potential for accelerated selection of new "hybrid clones" within the next few years.
Germplasm enhancement for resistance to Phytophthora pod rot was successfully carried out in Trinidad and Tobago, using the genetic diversity present in the International Cocoa Genebank at Trinidad (ICG,T).  Eleven per cent was classified as 'resistant' according to the detached pod test.  The genetic gain of ten per cent would result in a population with better average resistance than that of the resistant control clone.  Using this technique, a total of 856 selected seedlings were established in the field.
The Cocoa Germplasm Conservation, Characterization and Evaluation carried out at the ICG,T enabled the establishment of the so-called 'CFC/ICCO/IPGRI Project Collection', which is an international working collection containing 110 accessions possessing valuable agronomic traits and wide genetic diversity.  Distribution of this collection to project partners and other user-countries had been initiated through the intermediate quarantine facility at the University of Reading in the United Kingdom.
https://www.icco.org/wp-content/uploads/2016/05/sacks.jpg
301
666
Carlos Follana
https://www.icco.org/wp-content/uploads/2016/05/logo-icco-300x225.png
Carlos Follana
1998-04-01 12:59:13
2020-04-08 14:04:08
Cocoa germplasm utilization and conservation: a global approach