Feasbility study on opportunities in organic cocoa production in Africa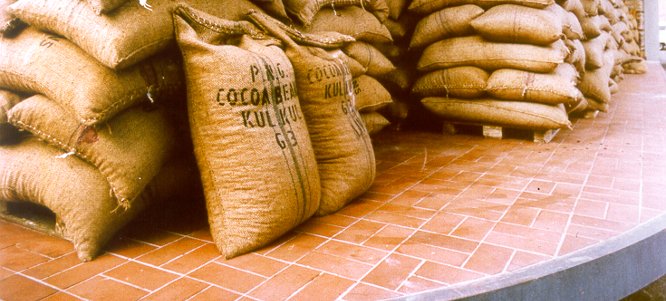 | | |
| --- | --- |
| DURATION: | Three years |
| LOCATION: | CAMEROON AND TOGO |
| NATURE OF PROJECT: | Market Access and Market Development |
| ESTIMATED TOTAL COST: | US$ 131,723 |
| FINANCING COMMITED BY CFC: | US$ 101,426 |
| CO-FINANCING: |  – |
| COUNTERPART FINANCING: | US$ 30,297 |
| PROJECT EXECUTING AGENCY (PEA): | Royal Tropical Institute (KIT) Amsterdam, The Netherlands |
| PROJECT SUPERVISORY BODY: | International Cocoa Organization (ICCO) |
| PROJECT STARTING DATE: |  October 2008 |
| COMPLETION DATE: |  October 2011 |
Brief Description
The feasibility study involved the analysis of the cocoa value chain; assessment of the current status and the opportunities for organic cocoa export including cost-benefit analysis of organic production and certification; and development of action plan for supporting organic export in selected areas, with selected producer groups and other stakeholders.
Project Objectives
The objective of the project was to analyse the opportunities in organic cocoa production and to identify the best production areas, producer organization and support activities for organic cocoa production in Cameroon and Togo.
Project Results
The study established that the conversion from conventional cocoa (organic by default) to certified organic cocoa production was both feasible and financially viable in both countries, but under different conditions.  In Cameroon, it was recommended to build upon existing multi-stakeholder partnerships, while in the case of Togo, there was a need to first strengthen the cocoa supply chain, and then build new partnerships.  In addition, for Togo, a problem of availability of improved planting material was identified, while in both countries, the incidence of pests and diseases, which could require the use of pesticides, was seen as a major bottleneck.  The study also demonstrated that the financial viability of organic cocoa production depended on a number of variables, such as the number of farmers involved, their yields, and their loyalty in selling their cocoa to their organizations.
https://www.icco.org/wp-content/uploads/2016/05/sacks.jpg
301
666
Carlos Follana
https://www.icco.org/wp-content/uploads/2016/05/logo-icco-300x225.png
Carlos Follana
2008-10-01 21:53:36
2020-04-07 18:22:01
Feasbility study on opportunities in organic cocoa production in Africa