Feasibility Study for the Development of a Commodity Exchange in Cameroon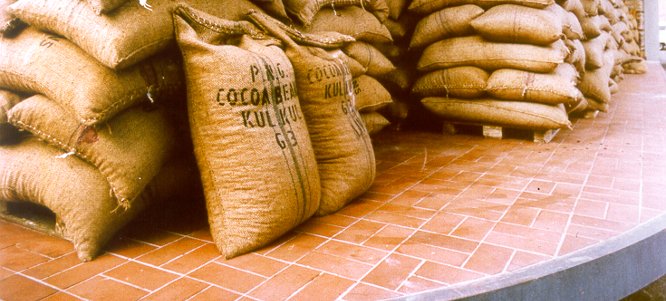 | | |
| --- | --- |
| DURATION: |  Six months |
| LOCATION: |  Cameroon |
| NATURE OF PROJECT: |  Market Access |
| ESTIMATED TOTAL COST: | US$ 308,000 |
| FINANCING COMMITED BY ACBF: | US$ 200,000 |
| CO-FINANCING | US$ 58,000 |
| COUNTERPART FINANCING | US$ 50,000 |
| PROJECT EXECUTING AGENCY (PEA): |  ELENI-LLC Consultancy |
| PROJECT SUPERVISORY BODY: | International Cocoa Organization (ICCO) |
| PROJECT STARTING DATE: |  September 2014 |
| COMPLETION DATE: |  March 2015 |
Brief Description:
The creation of warehouse-receipt systems and commodity exchanges is seen as a valuable means of improving the performance of agricultural marketing systems in Africa, following the liberalization introduced in the 1980s. Progress in the promotion of these systems and the related market institutions in Africa have generally been slow or limited. However, judging by the successful experiences in a number of developing countries in Asia and Latin America, as well as in South Africa, there is every reason to expect that such systems can become a strategically-important element for transforming agricultural marketing systems in Africa, helping to address some of the factors contributing to the present inefficiency in the trading of agricultural produce, and at the same time contributing considerably to the reduction of poverty among the rural population.  Given the importance of the agriculture sector for the economy of Cameroon and the innovative nature of this project, it is important to conduct a feasibility study for the development of warehouse-receipt systems and of a commodity exchange in the country, to ensure a correct framework is put in place for the agricultural sector to thrive and have a positive impact on farmers' livelihood.
Project Objectives:
The main objective of the project is to carry out a feasibility study in Cameroon with a view to assessing the potential and possible conditions for the creation and operation of a commodity exchange, based on a warehouse receipt system.   This exchange would include transactions involving the key country's agricultural commodities (cash and subsistence crops).
Project Status:
The project consultant finalized the feasibility study in Cameroon. A first draft of the study is currently being finalized by the consultan. Thereafter, authorities from Cameroon will organize a meeting between the PEA and a the project technical committee to review the results of the feasibility study and establish the way forward for the implementation of a Commodity Exchange in Cameroon. Once approved, the report of the feasibility study will be made available. The project is expected to commence before the end of 2014.
https://www.icco.org/wp-content/uploads/2016/05/sacks.jpg
301
666
Carlos Follana
https://www.icco.org/wp-content/uploads/2016/05/logo-icco-300x225.png
Carlos Follana
2014-06-01 22:07:43
2020-04-07 18:22:00
Feasibility Study for the Development of a Commodity Exchange in Cameroon