Study of the chemical, physical and organoleptic parameters to establish the difference between fine and bulk cocoa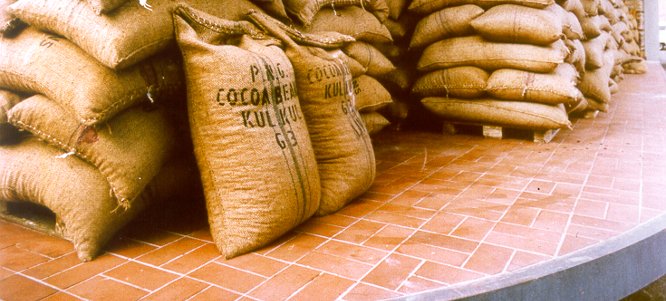 DURATION:

5 and a half years after 18 monts extension

LOCATION:

ECUADOR,
PAPUA NEW GUINEA,
TRINIDAD AND TOBAGO,
VENEZUELA

NATURE OF PROJECT:

Research and Development

ESTIMATED TOTAL COST:

US$ 1,666,570

FINANCING COMMITED BY CFC:

US$ 839,223

CO-FINANCING:

US$ 205,837

COUNTERPART FINANCING:

US$ 617,510

PROJECT EXECUTING AGENCY (PEA):

Instituto Nacional de Investigaciones Agropecuarias (INIAP)

PROJECT SUPERVISORY BODY:

International Cocoa Organization (ICCO)

PROJECT STARTING DATE:

January 2001

COMPLETION DATE:

March 2006
Brief Description
The main activities carried out during project implementation were fermentation and drying trials; chemical assessment of quality parameters; preparation and chemical analysis of cocoa liquor; organoleptic assessment of sensory characteristics; and DNA profiling and spectral image analysis.
Project Objectives
The main objective of the project was to provide universally acceptable criteria to differentiate between fine/flavour and bulk cocoa, thereby improving the marketing of fine or flavour cocoa. The specific objectives of the project were to establish and disseminate physical, chemical and organoleptic parameters for the evaluation of cocoa quality in relation to genotype and environment.
Project Results
The fermentation and drying trials showed that all parameters measured (temperature, pH, shell percentage, bean index and colour), with the exception of colour of the white Criollo from Venezuela, were useful in determining the good quality of cocoa. However, these parameters could not differentiate fine or flavour from Bulk cocoa.
The results of the chemical assessment of quality parameters and analysis of cocoa liquor indicated that theobromine/caffeine ratio had the potential to differentiate between fine and bulk cocoa. The fructose/glucose ratio showed some promising potential to also differentiate between fine and bulk cocoa. Results also showed that pyrazines and other volatile compounds could be used to differentiate different fine cocoa origins.
Organoleptic assessment of sensory characteristics confirmed that in general, cocoas from different origins have distinct flavour profiles, thus eliminating market competition among them. The results of organoleptic analysis also showed the influence of the environment on the flavour profiles of the same genotype in different countries.
The results of the DNA and spectral image analysis indicated that molecular markers could be used to distinguish different cocoa genotypes. In particular, it was possible to determine if a certain batch of cocoa contains mixture of different types of cocoa.
https://www.icco.org/wp-content/uploads/2016/05/sacks.jpg
301
666
Carlos Follana
https://www.icco.org/wp-content/uploads/2016/05/logo-icco-300x225.png
Carlos Follana
2001-01-01 21:26:06
2020-04-07 18:15:29
Study of the chemical, physical and organoleptic parameters to establish the difference between fine and bulk cocoa