The use of molecular biology techniques in a search for varieties resistant to Witches' Broom disease of cocoa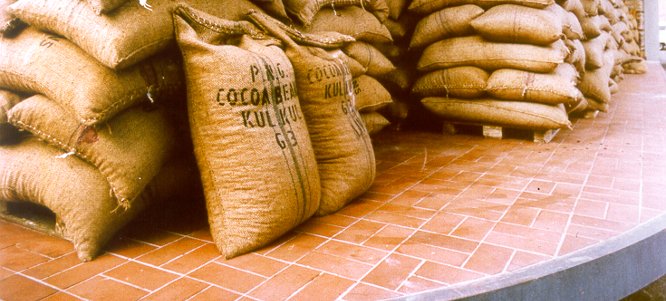 DURATION:

Five and a half years after six month extension.

LOCATION:

BRAZIL,
ECUADOR,
PERU

NATURE OF PROJECT:

Sustainable cocoa production

ESTIMATED TOTAL COST:

US$ 3,191,824

FINANCING COMMITED BY CFC:

US$ 816,197

CO-FINANCING:

US$ 800,000

COUNTERPART FINANCING:

US$ 1,575,527

PROJECT EXECUTING AGENCY (PEA):

Comissao Executiva do Plano Lavoura Cacaueira (CEPLAC), Brazil

PROJECT SUPERVISORY BODY:

International Cocoa Organization (ICCO)

PROJECT STARTING DATE:

April 2000

COMPLETION DATE:

September 2005
Brief Description
The main activities of the project were construction of a genetic linkage map; identification and characterization of molecular markers associated with resistance to witches' broom disease; identification of quality trait loci (QTL) related to agronomic traits; use of recurrent selection to obtain improved populations; backcrossing in cocoa; and germplasm evaluation.
Project Objectives
The main aim of the project was to apply molecular biology techniques in cocoa Germplasm evaluation, in particular using molecular markers at DNA level, to improve knowledge on the relationships among genotypes including studies on heterozygosity, pedigree, characterization of genes controlling the inheritance of economic traits and identification of genes controlling disease resistance. This process would lead to accelerated development and release of new cocoa planting materials which would be more uniform, more productive and more tolerant to diseases, particularly to witches' broom
Project Results
A highly saturated map was developed for variety Sca-6 x ICS and saturated maps were constructed for varieties CAB x ICS-39 and CAB-214 x ICS-39. Molecular markers related to gene resistant to witches' broom were identified. QTLs with important agronomic traits were identified. About 1300 cocoa trees from recurrent selection were produced and transferred to the field. Backcrossings in cocoa were conducted to advance backcross generations based on molecular and phenotypic data. Through germplasm evaluation, molecular data from 800 clones were collected using different types of markers, and the genetic diversity of the clones was assessed.
Click here to download the Project Completion Report (PCR)
https://www.icco.org/wp-content/uploads/2016/05/sacks.jpg
301
666
Carlos Follana
https://www.icco.org/wp-content/uploads/2016/05/logo-icco-300x225.png
Carlos Follana
2001-04-01 21:22:48
2020-04-07 18:15:58
The use of molecular biology techniques in a search for varieties resistant to Witches' Broom disease of cocoa