African Cocoa Coalition signs Abidjan Declaration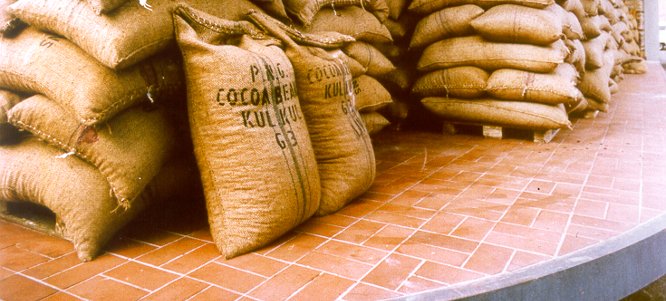 LONDON, 22 July 2013—The African Cocoa Coalition (ACC), which comprises autonomous non-governmental organizations and farmer groups active in the cocoa sector, has become the 35th stakeholder to sign the Abidjan Cocoa Declaration.
David Guba Kpelle, the ACC's Programme Director, signed the Declaration on behalf of the Coalition at the recent International Workshop on Cocoa Certification in Douala, Cameroon.
ACC has been playing an active role in the ICCO's multi-stakeholder sustainability initiatives in the cocoa sector since the first Roundtable on Sustainable Cocoa Economy was held in Accra in 2007 and it has since been involved in capacity building for cocoa farmers, including training them to form strong associations and cooperatives.
The ground-breaking Abidjan Cocoa Declaration now has 35 signatories from across the entire cocoa sector. The international stakeholders began signing the Declaration at a special ceremony during the first World Cocoa Conference in Abidjan in November.
The Declaration recommends specific and measurable actions to achieve a sustainable cocoa economy, and reflects the more detailed proposals of the Global Cocoa Agenda. The important issues highlighted by the Agenda formed the basis of the many presentations and panels that took place at the Conference.
The Declaration is the first step in an ongoing process aimed at creating a sustainable future for the cocoa sector and helping to ensure that its benefits are shared along the entire chain, starting with the growers. Another World Cocoa Conference, planned for 9 – 13 June, 2014 in Amsterdam, is set to monitor and review the progress being made to deal with the issues outlined by the Declaration and the Agenda.
The texts of both the Abidjan Cocoa Declaration and the Global Cocoa Agenda, as well as most of the presentations that were delivered at the first World Cocoa Conference, can be downloaded here.
The other signatories to the Abidjan Cocoa Declaration are: Cameroon, Côte d'Ivoire, Ghana, Indonesia, Democratic Republic of Congo, Ecuador, Togo, Papua New Guinea, Mars, Mondelēz International, Nestlé, Blommer Chocolate, CEMOI, Ferrero Trading, Armajaro Trading Ltd, ADM, Barry Callebaut, Cargill,  Hershey, Petra Foods, Amtrada/Continaf, Noble Group, Olam International / Outspan Ivoire, Touton, Transmar Group, Federation of Cocoa Commerce, CAOBISCO, World Cocoa Foundation, IDH (Dutch Sustainable Agriculture Initiative), ECA (European Cocoa Association), ACP (The Africa, Caribbean and Pacific Group of States), Talents (farmer), ICI (International Cocoa Initiative) and HCCO (Hamburg Cocoa & Commodity Office GmbH).
The Declaration remains open, and all cocoa stakeholders are urged to sign it.
https://www.icco.org/wp-content/uploads/2016/05/sacks.jpg
301
666
Carlos Follana
https://www.icco.org/wp-content/uploads/2016/05/logo-icco-300x225.png
Carlos Follana
2013-07-22 17:14:25
2023-01-19 16:17:21
African Cocoa Coalition signs Abidjan Declaration