Assessment of world cocoa bean stocks 2015-16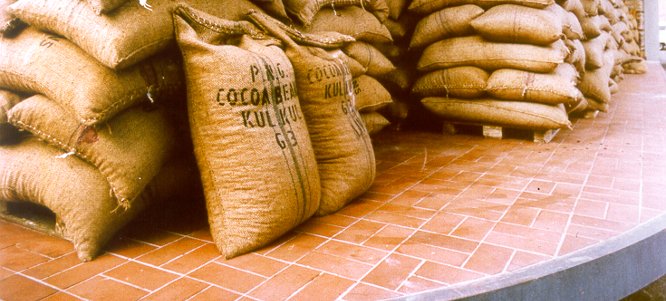 London, 26 January 2017 — The ICCO Expert Working Group on Stocks (EWGS) met today to review the level of world cocoa bean stocks. The EWGS is composed of experts in the cocoa field who meet once a year, at the invitation of the ICCO, to review and analyse the results of the ICCO's annual survey of cocoa stocks held in warehouses worldwide. The survey has been conducted every year since 2000 and aims to improve transparency in the cocoa market.
Location of cocoa bean stocks
30 September
2015
30 September
2016
Difference
(year-on-year)
 
 (thousands of tonnes)

(thousands oftonnes)
 (thousands of tonnes)
STOCKS IN COCOA IMPORTING COUNTRIES
1,086
1,185
 99
of which:
 
 
 
Europe
759
899
139
Licensed US warehouse stocks                 
244
185
-59
 
 
 
 
STOCKS IN COCOA PRODUCING COUNTRIES
317
236
-80
 
 
 
 
COCOA BEANS IN TRANSIT
87
56
 -32
 
 
 
 
TOTAL ESTIMATED
1,490
1,477
 -13
WORLD COCOA BEAN STOCKS (ICCO survey)   
 
 
 
 
Total world stocks (statistically-derived) QBCS
1,597
1,447
-150
Totals and differences may differ due to rounding
The result of the latest survey showed that world cocoa bean stocks fell to 1.477 million tonnes as at the end of the 2015/2016 cocoa year (30 September 2016). 80% of the stocks were located in cocoa importing countries, while 16% were held in cocoa producing countries and 4% were afloat as at 30 September 2016.
The level of world cocoa bean stocks identified by the ICCO survey was down by 13,000 tonnes compared to the previous year. This result reflects a smaller cocoa supply deficit than the one published by the ICCO in November 2016 in its latest Quarterly Bulletin of Cocoa Statistics (QBCS), estimated at 150,000 tonnes for the 2015/2016 season. The review conducted by the EWGS during its meeting led to the conclusion that the survey results may have underestimated the reduction of existing world stocks during that year due to the contraction of "invisible" stocks – i.e. origin stocks held in locations not reporting to the ICCO survey. Consequently, the cocoa supply deficit for the 2015/2016 season was higher than the 13,000 tonnes stock draw identified by the survey.
The ICCO Secretariat maintains, so far, its supply deficit estimate of 150,000 tonnes for 2015/2016 as published in its latest QBCS, and to be revised only in its next Bulletin due at the end of February 2017, taking into account the outcome of this survey.
https://www.icco.org/wp-content/uploads/2016/05/sacks.jpg
301
666
Carlos Follana
https://www.icco.org/wp-content/uploads/2016/05/logo-icco-300x225.png
Carlos Follana
2017-01-31 14:56:16
2020-04-08 14:18:04
Assessment of world cocoa bean stocks 2015-16