Assessment of world cocoa bean stocks for 2013-14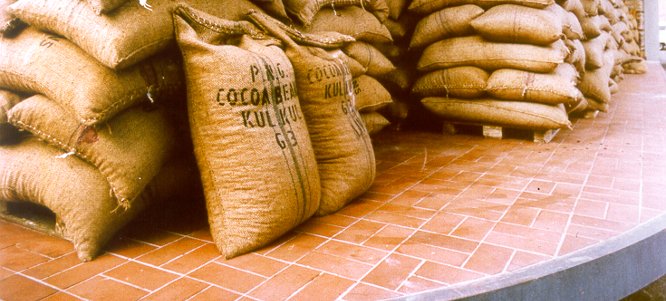 London, 23 January 2015 — The ICCO Expert Working Group on Stocks (EWGS) met today to review the level of world cocoa bean stocks. The EWGS is composed of experts in the cocoa field who meet once a year, at the invitation of the ICCO, to review and analyse the results of the ICCO's annual survey of cocoa stocks held in warehouses worldwide. The survey has been conducted every year since 2000, and aims to improve transparency in the cocoa market.
The result of the latest survey showed that world cocoa bean stocks fell to 1.508 million tonnes, as at the end of the 2013/2014 cocoa year (30 September 2014) – a figure 19,000 tonnes lower than the previous year. This means that demand may have slightly outpaced net production in the 2013/2014 season. This result differs from the statistically-derived estimate published by the ICCO in November 2014 in its latest Quarterly Bulletin of Cocoa Statistics (QBCS), showing a supply surplus of 53,000 tonnes.
The EWGS would like to note that caution should be exercised in the interpretation of the difference between the results of the survey and the statistically derived stocks.
The EWGS now notes that a cumulative gap of 151,000 tonnes has developed between the annual survey of cocoa stocks held in warehouses worldwide and the ICCO's statistically-derived stocks figure. The EWGS suggests that the following factors may have contributed to this difference:
Increase in stocks held in locations not reporting to the ICCO survey, such as in Indonesia; and
Cocoa beans in transit higher than estimated.
While the ICCO Secretariat maintains, so far, its supply surplus estimate of 53,000 tonnes as published in its latest QBCS as its official estimate for 2013/2014, it may revise that figure in the next edition of the QBCS due at the end of February 2015, taking into account the outcome of this survey.
https://www.icco.org/wp-content/uploads/2016/05/sacks.jpg
301
666
Carlos Follana
https://www.icco.org/wp-content/uploads/2016/05/logo-icco-300x225.png
Carlos Follana
2015-01-26 16:31:13
2020-04-08 16:31:19
Assessment of world cocoa bean stocks for 2013-14