CNN's Richard Quest to moderate child labour panel at WCC2 Amsterdam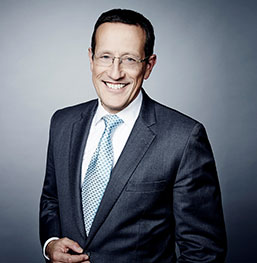 London, 27 May 2014 — Richard Quest, the well-known CNN television business broadcaster and journalist, is to moderate a panel at the World Cocoa Conference in June in Amsterdam.
Having fronted an in-depth documentary for CNN's Freedom Project, Cocoa-nomics, originally broadcast earlier in 2014, Mr. Quest is to moderate the panel looking at global efforts to eradicate the worst forms of child labour in the cocoa sector.
Mr. Quest previously interviewed farmers, top government officials and senior industry figures as part of the Cocoa-nomics project.
British-born Mr. Quest is one of the foremost international broadcast journalists in the business sector, and he hosts the CNN programme Quest for Business from New York every weekday.
The World Cocoa Conference, which runs 9 – 13 June at the RAI Convention Centre in Amsterdam, is set to attract over 1,000 participants from all over the world and across the entire spectrum of the industry, taking in farmers, traders, the cocoa and chocolate industry, governments of producing and consuming countries, as well as NGOs and civil society.
At the Conference panel on child labour, scheduled for Wednesday, 11 June, Mr. Quest's panellists will include Mr. Nick Weatherill, Executive Director of the International Cocoa Initiative (which was set up to investigate this issue), Dr. Francis Baah, Manager of the Ghana Cocoa Board, and Mr. Benjamin Smith, the senior officer at the International Labour Organization looking at the problem.
Full details of the second edition of the World Cocoa Conference, which is scheduled to hear from 90 speakers and panellists on numerous cocoa topics over five days, are available at the event website www.worldcocoaconference.org.
You can download the latest edition of the Conference brochure here.
https://www.icco.org/wp-content/uploads/2019/06/Richard-Quest-CNN.jpg
263
257
Carlos Follana
https://www.icco.org/wp-content/uploads/2016/05/logo-icco-300x225.png
Carlos Follana
2014-05-27 16:48:56
2020-04-08 16:40:45
CNN's Richard Quest to moderate child labour panel at WCC2 Amsterdam