ICCO and Afreximbank sign collaboration agreement on cocoa development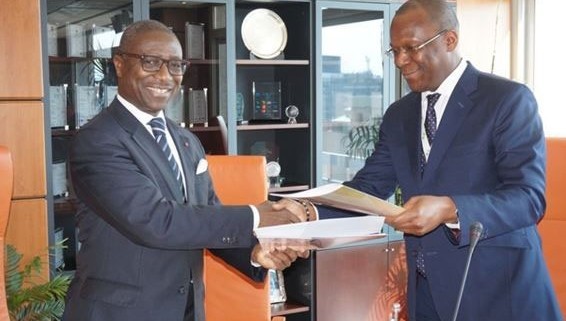 London, 5 December 2014—Sealing a wide-ranging international programme of collaboration, the International Cocoa Organization (ICCO) and the African Export-Import Bank (Afreximbank) on 28 November signed a Memorandum of Understanding (MOU) in Cairo, Egypt, where the bank is based.
The MOU aims to boost the development of the cocoa sector in Africa, foster the long-term competitiveness of smallholder cocoa farmers and support the local cocoa and chocolate products industry, to reinforce their capacity to participate in global trade.
Under the terms of the MOU, the ICCO and Afreximbank are to work together to develop activities, secure funding as well as devising and implementing projects.
Activities would include enhancing the sustainability of the cocoa value chain in Africa, increasing the capacity of cocoa farmers to improve their productivity, and supporting value addition in the countries by establishing new cocoa processing facilities and strengthening existing ones. Another significant part of the agreement would see the two organizations promoting cocoa and chocolate products consumption in Africa and in emerging markets, and focussing particularly on China and other Asian markets.
Regarding the huge potential Chinese market for cocoa, the two organizations agreed to examine the feasibility of a promotion campaign, including producing a market study to provide information to African cocoa exporters.
Afreximbank, through its successful African Cocoa Initiative (AFRICOIN) was already involved in many of the activities identified in the MOU, the Bank's president Jean-Louis Ekra said, confirming that the bank had provided about $350 million in financing to support cocoa processing in the four major African cocoa producing countries. He estimated that another $400 million of funding would available to finance a broad range of cocoa development projects to improve the situation for cocoa stakeholders in the region.
ICCO Executive Director Dr Jean-Marc Anga said that he welcomed the opportunity to collaborate with Afreximbank, and highlighted the importance of supporting the processing of cocoa by indigenous businesses in Africa. He further stressed that the African cocoa sector has a great future and that the possibilities for transformational change in the region are tremendous.
Pictured: Afreximbank's President Jean-Louis Ekra (left) exchanges documents with ICCO Executive Director Jean-Marc Anga at the signing.
https://www.icco.org/wp-content/uploads/2019/06/MOUsigning-Cairo-28November14-optimised.jpg
375
566
Carlos Follana
https://www.icco.org/wp-content/uploads/2016/05/logo-icco-300x225.png
Carlos Follana
2014-12-05 16:34:21
2020-04-08 16:31:41
ICCO and Afreximbank sign collaboration agreement on cocoa development