ICCO inaugurates its Abidjan headquarters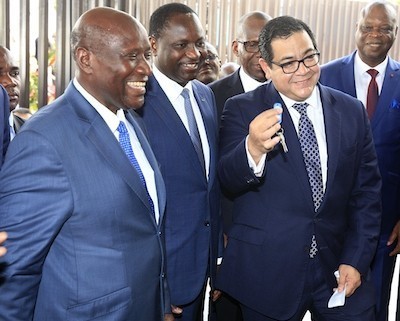 In a landmark event for the Organization, around 500 people gathered on 25 April for the formal inauguration of the ICCO's new headquarters in Abidjan, Côte d'Ivoire.
Ivorian Vice President H.E. Mr. Daniel Kablan Duncan was present for the ceremony, along with H.E. Mr. Mamadou Sangafowa Coulibaly, Minister of Agriculture, H.E. Mr. Souleymane Diarrassouba, Minister of Trade and Mr. Robert Beugré Mambé, Governor of the Abidjan Autonomous District.
They were joined by ICCO Council Chairman 2016-17 H.E. Mr. Luis Valverde, ICCO Executive Director Dr. Jean-Marc Anga and representatives from embassies, intergovernmental organisations and cocoa sector stakeholders.
The ceremony took place during the 95th regular session of the International Cocoa Council and subsidiary bodies.
The relocation of the ICCO to Abidjan should focus even more the Organization's attention towards the requirements of producers.
"Côte d'Ivoire is now convinced that the presence of ICCO in Abidjan will provide opportunities to better understand the realities of the sector and to better appreciate the expectations of producers," Vice President Kablan Duncan said.
"Through our establishment in a producing country," Dr. Anga said, "we want to offer better access to information on the world of cocoa and to identify the existing opportunities that producing countries could benefit from. The goal is to improve the transparency of the cocoa market by providing member countries with cocoa studies, analyses and statistics, as well as forecasts on world supply and demand."
The move to Côte d'Ivoire's commercial capital after 44 years being headquartered in London, comes after a decision by the Council in 2015, following an invitation by the Ivorian government. The government provided and completely refurbished a three-storey building in the city's Deux Plateaux area, which now houses the Organization's 25 staff members.
Pictured–Top left: ICCO Executive Director Dr. Jean-Marc Anga (l) with Ivorian Vice President H.E. Mr. Daniel Kablan Duncan; Above right: The Vice President presents the keys to the building to ICCO Council Chairman H.E. Mr. Luis Valverde; Above left: the commemorative plaque marking the building's inauguration as ICCO headquarters
https://www.icco.org/wp-content/uploads/2019/06/MG_4996-copie.jpg
326
400
Carlos Follana
https://www.icco.org/wp-content/uploads/2016/05/logo-icco-300x225.png
Carlos Follana
2017-05-31 14:14:25
2020-04-08 14:18:04
ICCO inaugurates its Abidjan headquarters