Price risk management training project begins in West Africa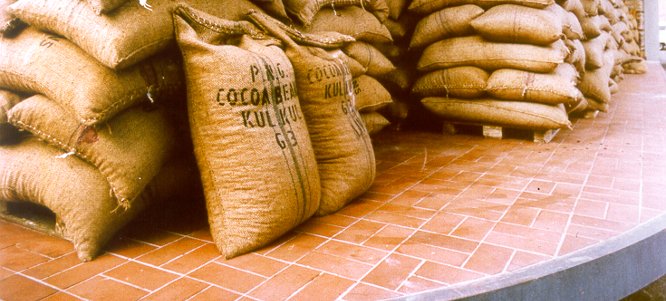 The ICCO launched its project Capacity building on price risk management strategy for cocoa smallholders in Africa in Cameroon and Nigeria in late April, with capacity building workshops held in Yaoundé and Abuja.
Implemented by the well known NGO Twin, the workshops attracted participation from cocoa farmers, co-operatives, producers associations, local banks and government officials. Similar workshops are already planned for Sierra Leone and Togo in the coming months.
The workshop participants discussed the results of a farm survey on the current price-risk management practices adopted in Cameroon and Sierra Leone. It emerged that only five per cent of interviewed cocoa producers are managing their price risk exposure either by negotiating the sale price before the delivery takes place (i.e. forward contracts), or by employing more sophisticated strategies (i.e. futures contracts). Furthermore, most farmers have misconceptions about how the world cocoa price is derived and the role of cocoa futures markets.
After this initial stage in the capacity building process, local cocoa stakeholders will go on to attend an intense training programme to fill these knowledge gaps. Subsequently, the Project Co-ordinators of each implementing country will contract some of these trained stakeholders to provide technical assistance to cocoa co-operatives on the ground.
The ultimate project goal is to increase the awareness of local cocoa stakeholders about price risk and about the means to reduce its detrimental effects on farm income. Indeed, the mitigation of the farm gate price risk is one of the pillars underpinning the reduction of the poverty level of cocoa farmers. Specifically reducing income uncertainty puts producers in a better position to plan both their current farm management practices, and their investment decisions. By doing so, positive spill over effects are expected on farm productivity.
The current project has been made possible by project grants from the Common Fund for Commodities (CFC) and the Agence Française de Développement (AFD).
https://www.icco.org/wp-content/uploads/2016/05/sacks.jpg
301
666
Carlos Follana
https://www.icco.org/wp-content/uploads/2016/05/logo-icco-300x225.png
Carlos Follana
2015-05-12 16:12:56
2020-04-08 16:29:42
Price risk management training project begins in West Africa